Arriving by Car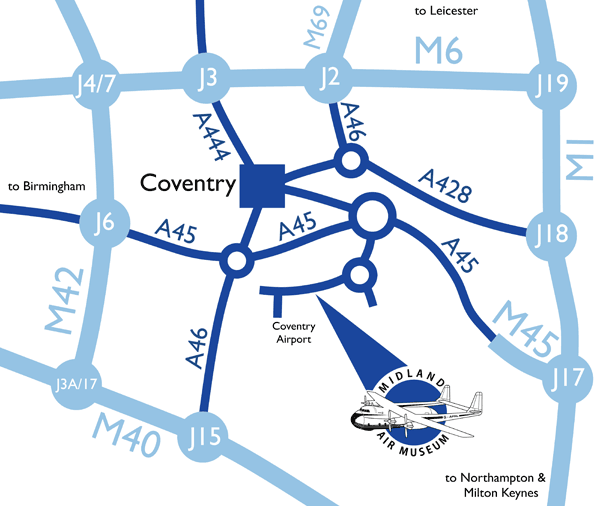 Postcode for your sat nav: CV3 4FR.
The Museum is located near Baginton Village on Rowley Road, adjacent to the northern boundary of Coventry Airport, south of the A45. We're easy to find and the Museum is well signposted from the A45. Once on the road between the A45 roundabout and Baginton village you can't miss us, or our Vulcan! Click on the map for a detailed road map.
Free car parking is provided for up to 100 vehicles (including coaches), with several spaces closest to the entrance reserved for Disabled Badge holders.
Arriving by Public Transport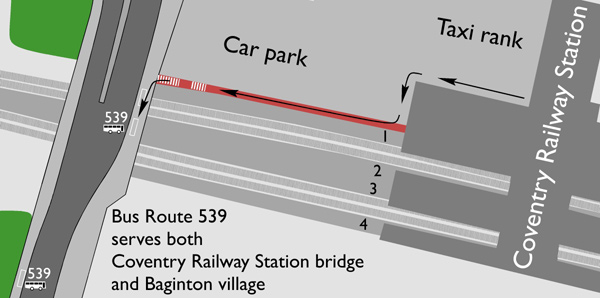 Rail services to Coventry station are frequent. However, the museum is a considerable distance away from Coventry Railway Station (and there are no stations closer). You will need to get a bus or taxi unless you particularly want to walk for an hour or two! The 539 bus service stops at Coventry Railway Station Bridge and Baginton Post Office. Presuming you've taken the train to Coventry, on leaving the platform and entering the station concourse, there is an exit to your left. Go out there and turn left once more, following the sign for Warwick Road and along the red-walled path. Go up the stairs in front and turn left for the bus stop. You want the furthest one away from you (see map to the left). The timetable is subject to change but can be found online at Johnsons Coaches, the current operators of the 539 service at the time of writing, or via telephone on (01564) 797070. Unfortunately the 539 service does not run on Sundays.
Look out for the bus as you may need to signal the driver to stop. From Coventry Railway Station Bridge ask the driver for a return to Baginton Post Office. Once at Baginton, walk back the way the bus came into the village and turn right at the junction. The museum is about 15 minute's walk from the post office; you'll soon see the Vulcan's tail. The bus drivers are a friendly bunch so if you let them know you're actually going to the Air Museum they may let you off the bus at the corner, saving you part of the walk. They also usually have copies of the timetable so you can make sure of the time of your return trip.
Arriving by Air
Please see the Coventry Airport website for applicable landing fees. Ask air traffic if you can park at the Aero Club (vacate the runway at Juliet); the Club is located just to the east of the Museum, just a short walk along the road. If you do not park at the Aero Club you will have at least a 20 minute walk to get to the Museum. Coventry Airport request that high visibility vests or jackets are worn whilst airside.