Events
The Museum has a regular programme of events including Open Cockpit Days, Model Fairs and Shows and Aviation Art Exhibitions. We enjoy a very close relationship with the Midland Regional Guild of Aviation Artists and now hold a bi-annual art exhibition, the largest of its kind outside London.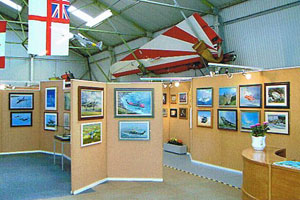 Our inaugaral exhibition was opened by Mr Alex Henshaw and successive exhibitions have been opened by Councillor Ram Lakha (deputy Lord Mayor of Coventry), Mr Ian Whittle (son of Sir Frank Whittle), Mr Michael Turner (President of the Guild of Aviation Artists and world renowned artist himself) and, most recently, Sir Peter Rigby (Chairman of Coventry Airport Ltd.)
For the duration of each art exhibition our Robin hangar is transformed from a stark and functional workspace into a carpeted exhibition space, while retaining the entirely appropriate aviation atmosphere. Join us in 2013 for our 6th exhibition - watch this space later in 2012 for details.
Information here is correct at time of last update (12th February 2012); however to avoid any possible disappointment it may be wise to ring us shortly before travelling to double check that a particular event is going ahead as scheduled. For further information on events at the Museum please contact us.