Latest News
Danish Hunter gets a new identity
Story added on 21st July 2007
After 6 years in the Black Arrows scheme we have re-painted our Danish F51 Hunter (E425) in to the more colourful EPTS Rasberry Ripple. A complete refurbishment of the cockpit interior has been carried out, with a new main panel having to be populated and fitted, along with the re-painting of the pristine condition inside of the fuselage in etch primer. Topped off with a new canopy she sits proudly in her new Museum location just awaiting the final touches.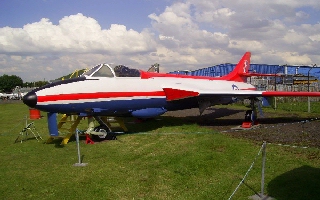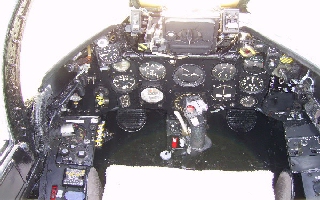 Now open by request to public viewing the only way to appreciate the condition of this fine example is to come and see her for yourself,
We are fully aware of the arguments for and against lookalike frames pretending to be what they are not, the owner of XE601 on which this re-paint is modelled had been approached whilst we were still in the planning stage and he gave his full approval. After all, it is only a coat of paint on metal no structural changes are ever made and full documentation is kept of every stage, including photographing what is found during the paint sanding stage. Things that would otherwise remain hidden and perhaps lost forever one day.