Latest News
December Update
Story added on 27th December 2012
On most December News reviews it is customary to look back on the previous year and comment on the progress of the organisation. Well that is not going to happen here so you will not have to suffer the near terminal boredom that that induces.
Cracking on with a report on the Viscount we have, after two very good sorties to Moreton- in -the-Marsh Fire Training School rescued the missing engine cowlings. As you can imagine they gave the team a hard time and never came off easily, they are of course from an 800 series Viscount but still fit OK. They were in remarkably good condition considering the use to which the aircraft had been put. After a lot of hard work they will all be ready for fitment after the engines have been installed. The picture shows the aircraft as it is at the moment with the engines positioned ready for lifting, already fitted with their respective mounts. The engine fitment will wait until the spring when we are hoping for some warmer drier weather. If anyone is wondering where the burner cans are on the engines in the photos, so are we. But when cowled up it wont show. The No 1 Engine is complete and as the cowlings are fully servicable it is our intention to open them up to allow photographic access in the summer. Full guided access to the aircraft interior is still scheduled for April. (Fingers crossed that the access steps will be finished).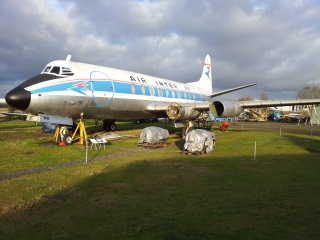 Rear cowling behind No 2 Engine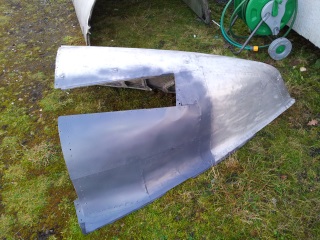 Another model show was held in early December in and was well supported by traders and modellers alike, sorry if the photo is a bit sparce on visitors but it was taken just before we opened the doors. Also included is a photo from our upstairs collection, showing the 1154/1155 radio combination.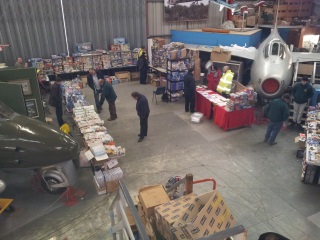 A very welcome gift of some equipment allowed us to update our Canberra PR3s photographic fit. The fully working F52 in the rear camera bay has benefited from the fitment of a new film magazine, sans film of course. Also it allowed us to fit a camera motor and flex drive to the port side of the camera bay. Maybe one day another F52 will turn up to give it something to do. Keen Canberra observers will notice that the Green Satin doppler radar is still fitted (and pressurised). Details of the radar complete with pictures can be found on Damien Burkes Canberra tribute website.