Latest News
November update
Story added on 20th November 2012
We dont go in to hibernation at the museum during the winter but it is true to say that a number of outside projects tend to go on hold at this time of year. Saying that we do try to take advantage of the good days where we can. An example of this is the fitting of the Viscount fairings. On average it takes about a day to fit one set of engine fairings which means you can if your lucky get it secured before dark. As you can imagine its not easy as each panel has fasteners that havnt been lubricated for about 15 years and all the anchor nuts need re-tapping. We have been lucky enough to get some engine fairings from the Viscount that is at the Moreton-in-the-Marsh Fire Training School as our inboard engine fairings have not followed the aircraft on its travels. The fairings we obtained are quite badly corroded as you would expect but we hope to make a good cosmetic job of fitting them. Just dont try to take them off in a hurry. The plan is to make the No 1 engine fairings openable for public viewing on special occasions as they are complete and safe to open. Some photos of the progress so far and an idea of the corrosion on what should be fairing hinges. Engine fitting is scheduled for spring of next year as is the opening for public access to the interior. A team are working on re-stepping the main entrance steps as we speak. The humidifier is doing a sterling job and needs emptying every two days so the water is coming out of something and it smells quite nice and fresh inside.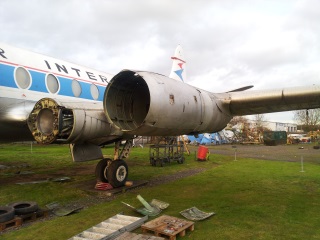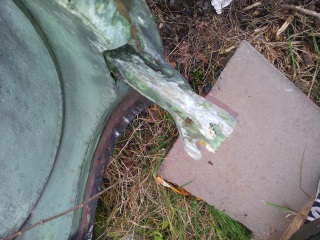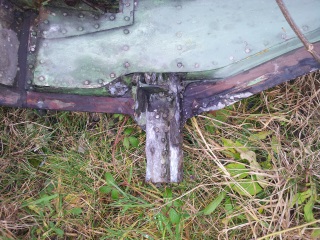 Now that the Mig is in the Robin hanger the final touching up of the paintwork is taking place. The photo shows the tail badge being re-painted. Not quite sure about the high gloss finish being strictly applicable to the Mig but it sure looks nice and it will last longer than a pure matt finish.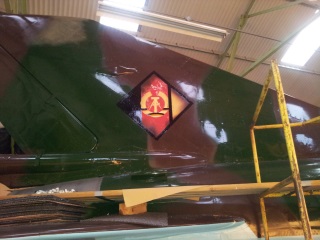 The Polish Iscra has had its main undercarraige doors refurbished and fitted in the last week. These doors went walkabout at the museum and eventually came to light some 9 months after the wings were put on. They were in a safe place of course (perhaps too safe). The stored Wing Pylons have been fitted to this training war bird to give it a slightly more agressive feel. It is a much photographed exhibit by the high number of Polish nationals that visit the museum.