Latest News
June update, a new arrival & WE are staying at Coventry..
Story added on 2nd July 2012
To remove any ambiguity in peoples minds it is best we state quite clearly that we are committed to stay in Coventry and remain open as an acredited museum. We wish Classic Flight every success in their new home at Newquay and although we will miss their presence at Baginton it does not affect our commitment to Coventry Airport at all.
The topic on most peoples lips at the museum has to be the really bad weather that the summer has dished out so far. It has to be said that whilst we have had our fair share of the inclement stuff a lot of people have had it a lot worse. As promised last month we are pleased to be able to announce the arrival of our Lockheed Electra cockpit section on site. We dont want to get drawn in to the argument about cockpit sections being good or bad for the museum fraternity thats for the armchair critics to ponder over. This cockpit will enable us to invite visitors to sit in the seats of a still active airliner. Very much envisaged as a hands on piece, after its had a good clean there are no plans to over restore this cockpit, so it will retain the look, patina and feel of a working aircraft. We will of course try to get the panels as complete as possible and any help with parts to achieve this would be very welcome. So if your sitting at home with a cupboard fill of Electra instruments do get in touch. Built as N5535 delivered June 1959 for Eastern Airlines it has had a few owners in its day, finally finishing its days at Bournemouth after flying with Channel Express. Early days yet as far as opening it to the public, as with most of these things safety is paramount and a secure movable support has to be fabricated along with access ladders before our guides are let loose with it. It will be externally painted and discussions are on going as to the livery, however we do want it in a scheme that it actually wore in its past life, Evergreen International seems favourite at the moment. Lots of pictures on the web of the aeroplane, that are not our copyright to reproduce on this site but they are easily googled.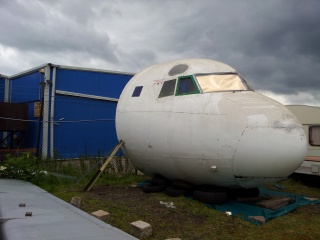 We will be posting updates as we go as always and the pictures you see now will become the before pictures in the before and after scenario. We must mention that the previous owner gave us massive assistance in its move and helped considerably in donating equipment.
On to other things, The Bofors Gun is looking most odd in its half primer half camo livery. Like most exhibits it gets attention when and where the team can fit it in. Its not really news to see something being painted but it is so unlikely that you will see it in this state again that we thought it worth including.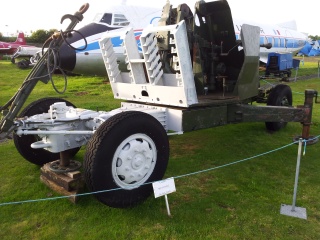 Progress to report on the MIG 21 repaint as well, much mucked about by the weather the team are getting to grips with this task and doing a few running repairs on the way. No clues as to the final scheme but keep visiting either the museum or the website and it will be revealed bit by bit.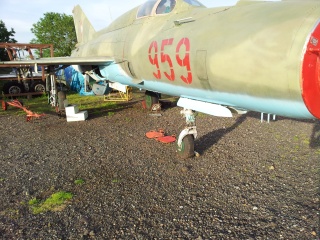 Cant leave the June update without recording that the Vulcan repaint is 99.9% complete, just the 617 badge to go on the tail and we can release the giraffe for impatient other users.
Mostly one mans dedicated efforts it has to be said and he should be proud of the excellent finish achieved. One visitor even commented that perhaps we should cut the hedge down so that it can be seen better from the road. What planet is he on I wonder.