Latest News
May news update.
Story added on 13th June 2012
Its good to be able to say that the Vulcan re-paint is nearly complete. Lots of hard work by just a few members who were able to spend the time on this project is bringing XL360s paintwork back to its former glory. The weather has been a major holdup in its final completion but with just the port side of the tail to go it should be complete by the end of the month. The usual problem that affects Vulcans, that is the engine jet pipe exhaust shields has also been addressed and although not cured (replacement is the only real cure) they have been beefed up and re-painted.
Another completed project that has had a bit of extra time added is the F6 Lightning. This time it was the fitting of the re-painted missiles. We lack the correct shoulder fittings so they are attached by some rather large metal straps. You would have to get very close to be able to see them but it was the only way we can get to hang them.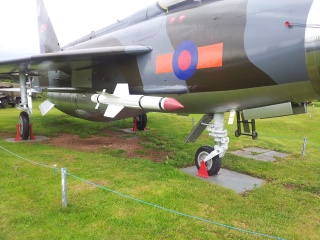 Finally for this quite brief update we have re-hung the Grasshopper glider in the roof of the hanger. A lot easier said than done, but it is securely in place at last, after a lengthy winter re-furbishment by just one dedicated member. Well done sir. Not the most elegant of gliders but it played its part in the Air Cadet experience.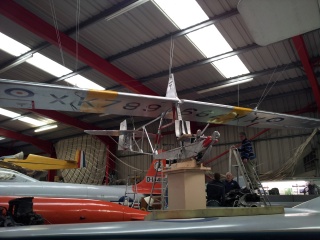 As promised another pic of the upstairs section of the museum. This time of the crashed Whitley fuselage section. Also shown is the new display in the hanger showing two of our Link trainers.
As a teaser there will be an addition (we hope) to the collection in the near future, so if you are not a frequent visitor to the museum (shame on you) keep your eyes on the website for details.
FINALLY:- Please dont forget the Model show on Sunday 29th. We have ordered good weather but no- one is promising. Its all under cover anyway so dont let that put you off. A lot of effort goes in to the preparation of this event by both the resident club and the museum so do support us if you can.