Latest News
News update for February
Story added on 20th February 2012
Lets start off with some real news that will effect how you're reading the news and all other aspects of our website. Yes we are having a makeover and even as this is being written the finishing touches are being made by the webmaster to our new look website. Who knows it may even have happened by the time this gets posted. We hope that you find the new site a good browsing experience and as always we welcome any feedback. A lot of effort has gone in to the update of text and pictures to bring the site right up to date. Gone is the Guestbook, replaced by twitter and facebook for a more personal interaction. All thats required is for us luddites to get up to speed on how to handle it.
January and the early part of February lets face it have not been kind to us weather wise. With the very odd exception most days have had weather that forces outdoor work to stop. We draw some comfort in hearing the same story from most other museums in our catagory. Oh for the luxury (but not the cost) of a well heated restoration hanger in which you could easily wheel aircraft in and out of and walk around in shirtsleeves. Saying that we still manage some progress on the fleet and hanger exhibits.
A re-arrangement of the ejection seat area in the hanger has given way to the display of a Link trainer exhibit in that area. All spruced up from its recent refurbishment, it is an aeroplane in miniture with a full size purpose. Hopefully one of our electronic experts will get it at least partly operational for our open cockpit days in the summer.
The Fletner is also progressing nicely and as has been said before its a slow painstaking process with each part having to be fabricated from drawings before being offered up for fitment. So for those interested in the rotary side here is another tail first picture of the aircraft,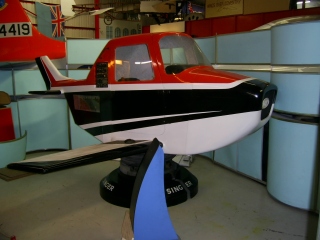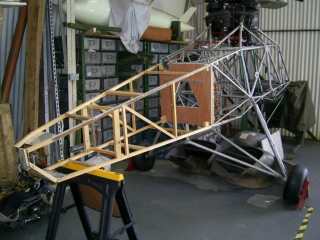 No excuses for including a few more pictures of the Viscount, it is an inside job after all. Firstly to carry on from last month where we showed you the seats being refurbished, here are a couple of pictures of them fitted to the aircraft. Yes they are bare frames and wouldnt be very comfortable to sit on, but the upholstery costs are prohibitve at the moment (unless we get a sponsor). What was left of the old leather covers was quite literally falling apart as you touched it. The other picture is less easy to make out. It is the forward cabin door.A lot of effort went in to its re hanging and judging by the numerous screw holes it had been done several times before, a difficult job to hang as it travels through 180 degrees with a closing point in the middle of its travel. Capped screws have been fitted to prevent any snagging of clothing in the future. Whilst on the topic the toilet door now locks correctly giving a correct signal to the well lit engaged sign. The last picture is of the Galley electrics , included really because it shows period equipment still in place and still working. Good solid british engineering at its best.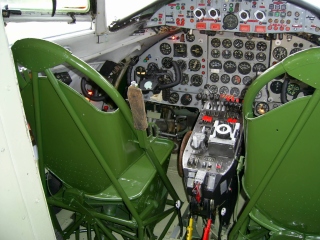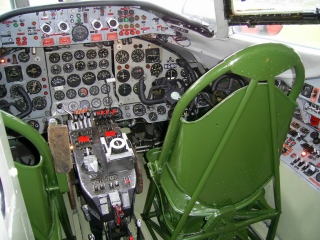 To round off what has been a fairly quiet month I have included a picture of our shiny Canberra PR3 taken by the webmaster during warmer times.