Latest News
News Update for December
Story added on 4th December 2011
Well the weather has turned cold at last even in Glorious Coventry. We couldnt really expect the high temperatures to last any longer but on the up side the grass has at last stopped growing. Not a lot of work on external renovation going on at present. Tyres still have to be kept inflated and as usual in museums its the faithful few that elect to do this task, There are also activities at the museum that go along in the background that never get a mention in the news update. Turning to those tasks however that are current we can start with the long term loan of a Vulcan model. Not your usual "Airfix"type but a model that was taken from a cast of one of the original wind tunnel models. An extremely high gloss finish model it is a welcome addition to our exhibits just before the Vulcans 50th Birthday. Marked up as you would expect as 558.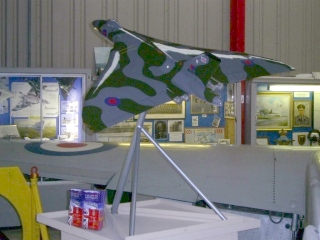 Next on the agenda is a little known aspect of our museum life that normally happens without a lot of people noticing. On one day a week some students from Coventrys Henley College arrive at the museum along with their tutor for some hands on engineering work. Valuable work not only for the museum exhibits that they work on but invaluble to them in getting hands on with tools and artifacts, a couple of pics on their current projects.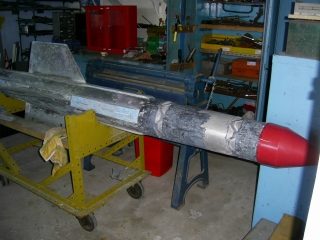 Now if your not a lover of the Vickers Viscount its time to terminate your reading. But if you are, then there are a few more pictures of this project to show how its progressing. The brief on the project was to provide safe reliable lighting that didnt impinge on the aircrafts originality and character. The infrastructure in providing an outside mains point was completed earlier in November, fully protected it gives us the reassurance that if anything did go wrong then no harm would come to anyone. Taking this onboard (pun intended) the mains wiring is done to a high standard using new cable and components that are very securely fastened in dedicated looms. A small switched mode protected power supply was installed to provide for the aircrafts lighting to be powered up. A time consuming task on an airframe that has at various stages in its life been got at. The roof lighting can be seen from the photos and easy removal of the units gives good access to change the small 6 watt tubes. Entrance lights are provided and provide more light than the aircraft in its original state ever did. Important though if you are to have safe public access. Even the toilette "french remember" has its own mains lighting along with the engaged sign. Permanantely on as we dont want people trying it for size. Some small tweeks are left to do in getting the rest of the instrument panel lighting up and running, the forward cabin seat belt and no smoking lights (in french) completed but the back of the task is broken and next year it should earn its keep along with ther other exhibits.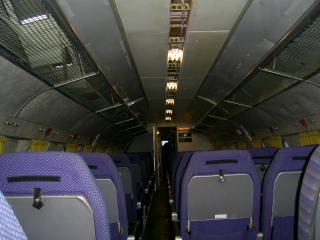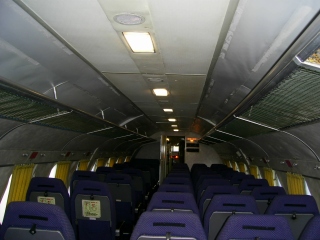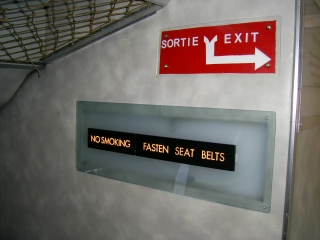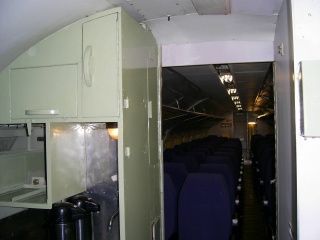 As an aside to the Newsy bit of this section of our site it might be worth remembering that if you want to have anything from a "fish and chip" evening with a group of fellow enthusiasts to a company presentation evening, all with or without guided tours please contact me, Dianne James, (02476301033) at the museum for very reasonable prices.