Latest News
News Update for November
Story added on 1st November 2011
Got to be honest this news report is going to be a bit thin on content, lots of group visits and making sure we are ready for the coming winter soaks up the available manhours, leaving a reduced workforce to push on with the renovation work. However some progress has been made on the Fletner. The tail section has been attached to the fuselage giving a much better idea of the aircrafts overall length. Loads more work on the project to follow of course which will be reported as it happens.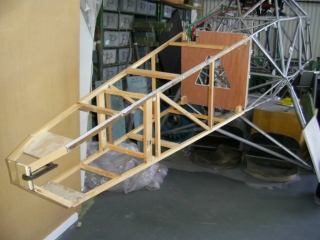 The Viscount story goes one step further with the addition of the mains lighting panel being made and mounted in the rear cabin luggage compartment. The mains suply to the outside of the aircraft is being proffesionally installed and will be a fully safety certified installation. We anticipate using small strip lights in the original roof lighting units to maintain as much originality as possible. Blackpool it wont be but it means that lighting will be available when it is finally opened. Anyone who has had to take down airliner trim panels knows that it is not an easy task to refit them afterwards so its a job that can be done over the winter without pressure. The second picture is where the power lead will be stowed when its not in use, once again making use of an external access that involves no interference to the basic airframe at all.
Finally as a bit of padding for the news, three pictures of the Leopard, two to show just how luxurious the interior of this business jet would have been and the third of the engine compressor (small isnt it). Needless to say that to keep the interior in its pristine condition we dont allow access to anyone (members included).