Latest News
Second half of October
Story added on 17th October 2011
With an average volunteer age of over..... well you can guess the rest, its at this time of year that we look for those "slightly" warmer places to vent our workforces enthusiasm on worthwhile projects. So it is this that provides us with most of the theme for the second half of Octobers news.
A long term but nonetheless achievable task is the bringing to life of the Singer manufactured Cessna flight sim. Built in an era when computer boards were just coming in vogue the idea of them was good but the unreliability of the edge connector boards and some of the earlier chips was to eventually bring about its commercial demise. It does have the potential of providing some customer intereraction even in a limited form so it is a good winter project for some of our computer experts (so called).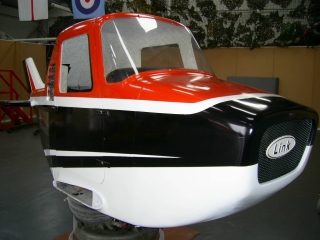 Mentioned before is the full strip & re-paint of the Firestreak missiles, this is still ongoing and will once the paint has been removed be brought indoors to be etch primed and sprayed.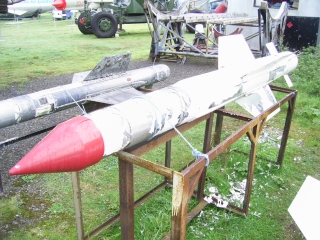 Now for something that doesnt fit the indoors mould unless we can find room in the hanger at some time, it is the Bofors gun. A long time asset this gets a make over every few years and in the best army tradition gets painted over and over again. For an outside exhibit though this is not such a bad thing as the paint thickness does keep the rust at bay. All of the elevating and rotating mechanisms are warned that they will be in for an overhaul from our resident "Plumber". It should keep him busy for ages.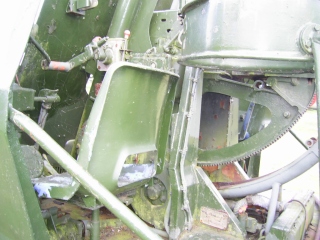 As a finale for this month the Canberra fin has had an extra layer of paint to keep the woodwork dry throughout the winter. For those not familier with the tail fin construction of the Canberra, its sides were of fabric covered marine ply construction to allow the twin "Gee H" navigational aerials to work correctly. It was partially reskinned about 8 years ago and needs a watchful eye to make sure that the weatherproofing remains intact. Not wanting the rest of the fin to look unloved the forward surface was recovered with irish linen, doped and repainted by our fully trained ex Mossie fitter. Included are some archive pictures of what a "Gee H" aerial actually looks like (nobody ever gets to see one normally) in situ and the re-skinning in progress, the last picture is as it is now. Note in the last picture the trestle that is positioned to catch the airframe should the snow build up on the tailplane try to tip her up. You cant be too careful with the forecasted bad winter.