Latest News
News update for September
Story added on 19th September 2011
Sorry this News story is a little late this month but with the extra workload of the Art Exhibition most other tasks had to be put on temporary hold. The exhibition was well received by everyone that visited during the three weeks that it was open. Photos were taken on the day of the opening ceromony and include the Reds flyover.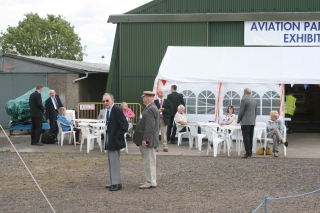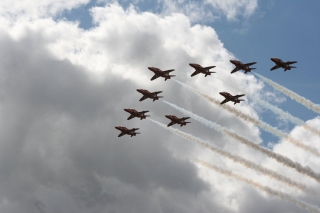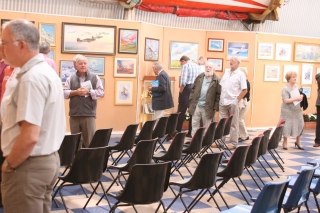 Now that the Voodoo is looking smart in its new livery it was felt that the F100 Super Sabre just had to be given the makeover treatment, started a bit late in the season work has begun on the rubbing down process in the hope that painting can be carried on the better days that are left of the summer. Whilst mentioning the Voodoo some unusual photos can be taken with the Air Brakes extended, something that is not normally seen in museums. A small but significant detail has been completed on the Hind. The cable that restrains the cabin door has a simple but effective method of covering, just a leather strip sewn to make a tube. This had suffered during the aircrafts life and a days work with a new leather strip, needle and thread had them replaced.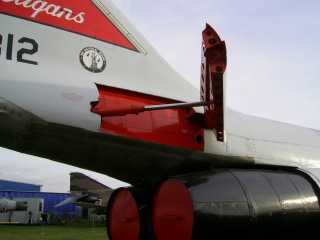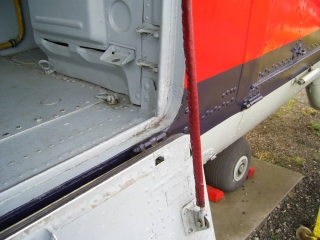 Plans are afoot for the Vulcan repaint. A lot of work is needed on the tail area to address the inevitable corrosion issues. A start has been made but make no mistake this is a long term winter project that is very weather dependant notwithstanding the problems of access to the higher parts. It doesnt interfere in anyway with our policy of allowing guided public access to the Vulcan cockpit area everyday at no extra charge. The last picture this month shows the Viscount cabin with the seat rails and seats all securely in place. A good days housekeeping left it smelling as fresh as a daisy. Plans are afoot to have an electrical supply available on the Viscount to allow the judicial use of a de-humidifier. Trunking is in place just a matter of having it proffesionally connected.