Latest News
News update for August
Story added on 1st August 2011
August comes around far to quickly every year, preparation for the Art Exhibition takes a lot of man power and organisation for all those involved and thats just about everyone. Aircraft have to be moved the hanger cleaned, carpet laid, screens erected, flags hung, a whole mulitude of small things that make the big thing work. Pictures will be posted later in the month to show the real thing but a picture here will show the hanger prep in progress. The Exhibition will be open to the public from Tues 16th August for 3 weeks. Also recorded was the very well attended Guild of Aviation Artists Sketch day. A whole day where they gather ideas and sometimes even complete sketches to be mulled over by their peers.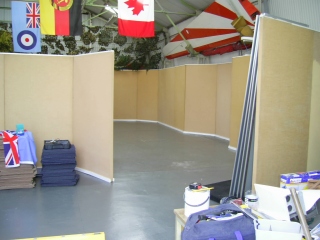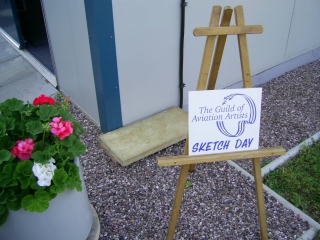 On to the front of the main building, for some time it had been the home of the shack radar. It was felt that it was time to give it a make over as the weeds and grass almost outgrew our ability to keep it looking smart. A weed clearance operation was carried out and a team of professional landscape gardners are doing there thing on what will be a much enhanced entrance area. Pictures of the final grassed result will follow.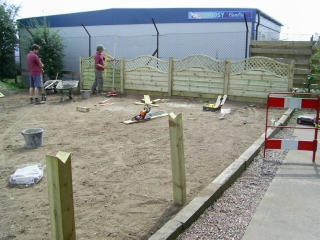 Moving on to the Lightning story. We contacted the 5 Sqn Association who kindly emailed all of their members in the hope that we could come up with a genuine name to put on the aircraft. After a few false starts leads began to appear and a one pilots name was confirmed by a few members as being the name on the side that they remembered. Now this particular pilot was not a member of the association but luckily a friend of his acted as a go between until eventually we established contact. A few emails later and we had permission to use his name and a new enthusiastic follower. Lots of dusty log books (Including the Bosses) have been scanned through and a whole host of dates provided as to who flew it and when. We very much appreciate everyones effort and co-operation in helping to restore XR771 to its correct 5 Sqn livery and look forward to some personal details from the pilot so that we can display them close to the aircraft.
The re-paint although not quite complete has been blessed with good weather so good progress was made from day 1. A bit of silver on the stbd underside and a few more decals will see it complete. The cockpit opened first time (for 6 years) when pumped and generous quantities of cockpit shine soon had everthing sparkling again. The cockpit and seat have had a sun shield cover over them on the inside of the canopy for all that time & it has certainly paid dividends in keeping the harmful U/V light at bay.