Latest News
News Update May 2011
Story added on 26th April 2011
Visits this weekend from a Lucas Aerospace group and a vintage car club complete with mandatory Alvis MGs and such kept the guides and cafe very busy. We were also represented by able volunteers at the Motor Museum in Coventry this weekend manning a stand highlighting the first flight of Whittles engine.
A few more shots of the Hunter to keep the rolling news theme alive. A very brief spell of suitable painting weather means that the fusalage and wings are finished, just the finishing touches to be completed on the roundals and yellows.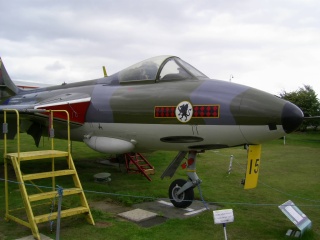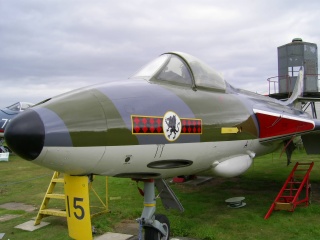 An update as well on the Sea Vixen nose repaint which is going on a pace.
Our Hunter XF382 is having a repaint, interupted at the moment by the lack of a suitable spell of dry weather, it will only require two good days to complete so we are hoping this bout of unsettled weather will soon pass. No changes are envisaged to the present scheme and it will still carry the name of one of 234 Sqns C.O.s Sqn Ldr Eastwood.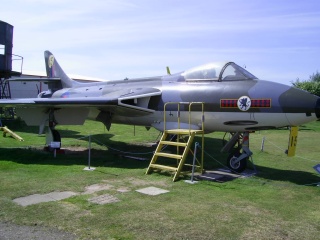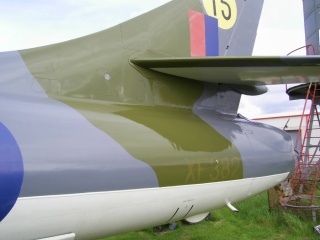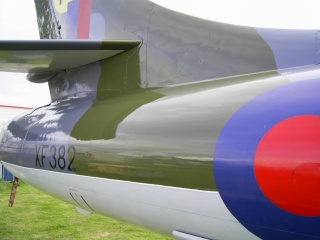 Mention has been made that in todays news hungry age Twitter and Facebook etc are lifting the communications bar even higher, so perhaps waiting a month for our news update is a little too long. I will increase the frequency of updates to fit in with workload, at least during our more productive summer months. No regular dates to be expected and it will entirely depend if something that has happened is worth typing up. So check in regularly you might see something new at any time.
The Whirlwind floor has been repainted and the aircraft returned to service so to speak. Lots of extra visitors over the bank holiday meant that it was there to share the workload & the extra footfall was more evenly distributed. With the immersion suit hanging inside depicting its North Sea role it was nice to see it open again.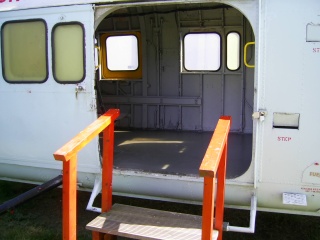 The Sea Vixen nose section has had to wait a number of years before its turn came round for some serious attention, a lot of activity going on around it at the moment with an end view of it getting its public access ticket. Interestingly during the rubbing down of the paint prior to its re-paint some interesting markings came to light. These will all be re-applied in due course. The pilot was "Henry" when this picture was taken .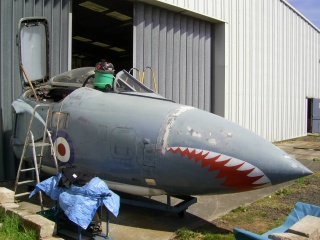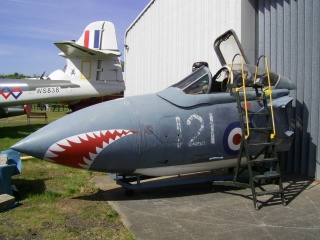 The excellent weather over the half term holidays meant that we were much busier than usual for this time of year and hats off to the guides who spent some blisteringly hot time in the aircraft making sure that every visitor enjoyed the museum to the full. A mixed blessing for the aircraft painters though because the aircraft really did become to hot to paint by midday.
A re-visit to the T17 cockpit where Flt Lt M.A.P. Reader has gained his correct map briefcase at last, complete with En Route supplement we see, sorry if his eyes seem a bit glazed over, but wouldnt yours be if you had to sit and listen to Coventry ATIS all day long. We are now looking for a body (or dummy) to occupy the AEOs seat, some museum members have already applied but they are not active enough to fulfil the role unfortunately.
The Whirlwind floor has been replaced and waits its weatherproofing before public access is restored to this venerable machine. Quite a history attached to this chopper, having served for Bristow in such diverse areas as Marine research, Middle East oil exploration and of course North sea oil areas as well.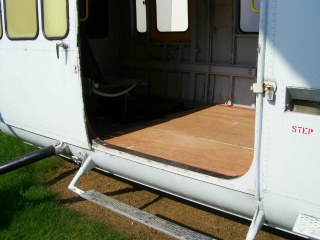 As promised last month, a photo of the 1950/60s VHF radio demonstration module that resides in the Argosy cargo hold. It is a fully working installation and shows the micro chip generation that valves really did glow in the dark.
At last, a picture of the Orange Putter radar unit, now safely installed in its freshly prepared cabinet. Complete with diagrams showing how it worked it also goes to show how large and complex these electronic units had to be to perform there function in life. There is also another equally large Waveform Generator unit located in the Canberras top hatch, a smaller False ident box in the cabin and its own dedicated invertor. All in all a lot of weight to carry around.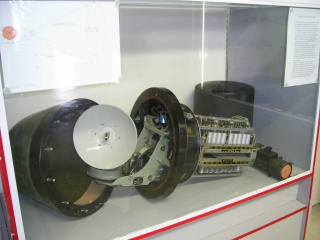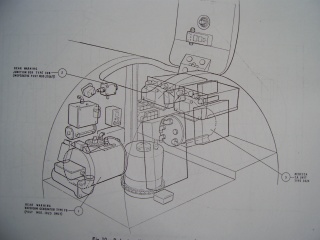 The Polish Iscra trainer aircraft has had some more authentic nose markings added which completes its external refurbishment. A unique aircraft on the UK museum circuit, the only other one being the very nice taxiable example held at Bruntingthorpe. Work load permitting some cockpit renovation work might be undertaken this year but ways have to be fabricated to keep the cockpit open without the use of HP nitrogen and a very flimsy strut.
Last but not least has been the repaint of the Sea Vixen, one of the Curators favourites this. But with this out of the way we can now relax a bit and let the painters loose on their own designated machines. Some stencilling still to be applied but I am told that the paint has to harden first before this is done. Overall it looks really good and although the colour looks a little blue in the photos, let me assure you it is the correct grey in real life.
We have added foam self adhesive draught excluder strips to act as drip catchers on the cheat line to prevent streaking on the underside. It has proved so successful on the Vulcan in reducing underside cleaning time ( and effort) that we decided to use it on this aircraft ( and the Phantom) as well. It shows up on the view of the tail underside but is quite unobstrusive.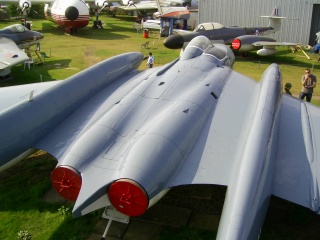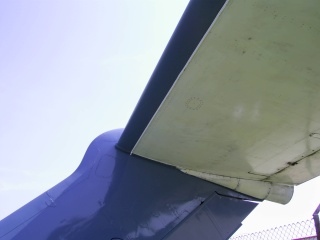 Finally another reminder about the model show on the 26th June, don't miss it, bargains galore I'm told.