Latest News
News Update 20/10/07
Story added on 20th October 2007
Foggy evenings followed by frosty mornings later in the week has meant that the actual time available for all sensible people to work outside has gradually got cut down of late. So by way of necessity most tasks undertaken by the engineering workforce this week had to fit in to that time slot. But despite this the Beaver had some more paint applied both on top and on the belly, along with a start on the T55 Lightning decals. Our Canberra had its bi-annual bath and scrub down on top as well.
The Gannett yellow bands were finished making it look very smart & a start was also made to rid it of some long term dings and dents it had suffered during its life. Whilst active with the hide face hammer & reaction block I also took the opportunity to straighten up a few other aircraft as well. Canberra and Hunters benifiting most from this attention. We musnt mention the gold paint failure on the T33 of course as it could cause embarrasement. A change of colour scheme is now being thought through though.
We couldnt let this week of the Vulcan go by without passing on the Museums Congratulations to those involved and I think our Vulcan visitor numbers have increased quite considerably since the momentous event. Not to be outshone we pumped the tyres up on 360 and gave them a lick of tyre black all round. We are going to spend a lot of time on XL360 next year and battle plans are being drawn up for the attack. Our Vulcan is of course open 7 days a week for visitors to the cockpit at no extra charge. Also this week after the Tuesday BAPC course held at the museum Tony received an extra certificate for being the 1000th attendee at the BAPC courses.
The answers to last weeks "Where am I" are, (1) The battery bay of the Meteor NF (looking aft in the nose wheel bay), (2) Easy one this, the port wheel well of the Hunter F6, showing the Vener refueling timer and High level float switch lights.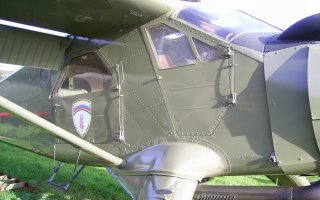 Where am I