Latest News
News Update 13/10/07
Story added on 13th October 2007
Nothing major to report this week, just a steady working week on the final painting tasks to be undertaken this year, The T33 has now got its full winter undercoat and has sprouted some odd colour trials on the tip tanks, this should give you a clue as to its final scheme. The Gannet yellow bands had started to fade, so a start has been made to correct that with a rub down and prime of the affected areas. The top coat will be applied today if the weather holds.The F4 is making good progress with the fuselage nearly finished. Wash downs this week were on the BP111a and 125, both very dirty and makes you realise that air pollution is very real when you have to wash and scrub the evidence of it away. Finally we have completed fitting the wing anti streaking strips to the Argosy, I just hope it works as its a large area to clean underneath. Having done it once this year, I am not in a hurry to repeat the excercise.
After completing the Argosy the high access platform was transferred to the Vulcan nose where after a good clean I inspected the paintwork. My conclusion was that next year a re-paint of the top half of the Vulcan will be required, having decided that we can spend the winter looking for a suitable sponsor (any takers). We were aware that the tail area needed doing, but initially it was thought that thats all that would be required, but because it could be Vulcan year next year due to 558s influence, we dont want our example to let the side down. The inside of XL360 is in complete beautiful condition & we intend to keep it that way for our daily guided tours of the cockpit.
A couple of Diary dates for you, The Gas Turbine Group are on site on Nov 18th, usually the morning will provide you the opportunity to see model gas turbines running outside of the Robin Hanger, and yes they are noisy. Then on the 2nd of December we have the Model Fair.
This week to make up for the lack of content I have done two "where am I" pictures, one easy, the other not quite as easy.Last weeks picture was taken from the ground looking up at the port inner wing of the Argosy (showing the drip strip).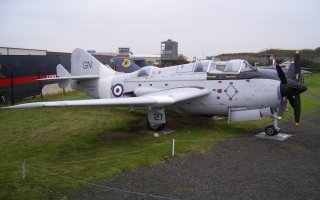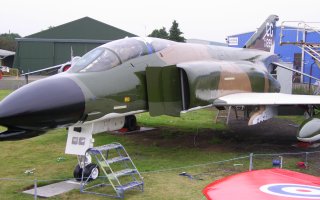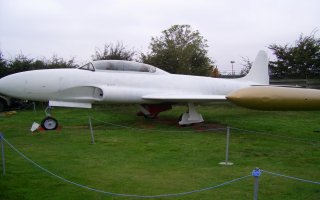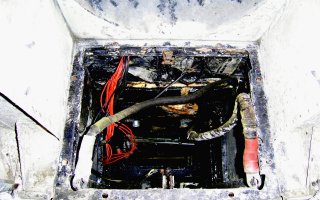 Where Am I