Latest News
News Update 06/10/07
Story added on 6th October 2007
Good steady progress this week on the aircraft that are being painted with the F86 being started by Chris who has been here man and boy. As with all the volunteer work that goes on, painting can only take place when members are free to give us their time and it also coincides with a good weather window. Given those restraints I think we do rather well with only three of our outside collection not having been re-painted in the last three years. To keep them all looking good the next few weeks has been set aside to do some more wash downs, with both Hunters and the Sea Hawk already completed, next for treatment during the coming week will be the Gannet and HS125. I am sure that being alongside the airfield fire dump doesnt help but dirt seems to gather awfully quickly on these Midlands aircraft.
Our metal repair specialist Lester has completed some patch repairs on the Prentice rudder and is playing catch up on the Phantom after we discovered an unrepaired battle damage hole in the stbd wing last week. He is one person who always has more added to his to do list than he can ever cope with, but with his methodical approach he makes a sterling effort to try. Just as important are those in the unsung woodwork department, not only do we throw them the odd aircraft part to make but they have to repair display screens, ladders, kitchen cabinets etc all of which goes un-noticed by the public and members alike. I will also give a mention to our lawnmower servicing team who fight a constant battle to keep the sit on mowers & strimmers working during the grass cutting season, their workload will diminish now as the mowers are out less frequently fighting the molehiles and stones turned up by the rabbit community.
Gordy has finally declared that he satisfied with the T55 undercarraige refurbishment and has now found some metal that hasnt seen any new paint for quite some time down the intakes. Not wishing to get him stuck we told him not to slide past the nose cone so he has fabricated tools and rollers on poles to enable him to do the work. Now of course no-one can find a broom to sweep up with. We all thought the lightning had developed a head cold after he wrapped up its nose, so I couldnt resist the picture.
Last week "Where Am I" was the front of the Sea Hawk of course. This weeks, well its not quite what it seems, but easy non the less.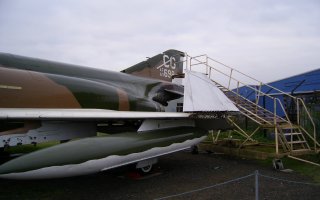 Where Am I