Latest News
News Update 29/09/07
Story added on 28th September 2007
The weather held up for us last Sunday and the model show began on time, with all the traders and clubs in position by 9.30. The site quickly filled up after we opened the doors at 10 and as we predicted the museum volunteer staff were hard pressed to find time for lunch. Everything went very smoothly the only near crisis came at about 4 when the cafe had used nine out of its ten loaves. With no cakes left and very little else it was about that time that everyone decided that it was home time, so no-one went hungry.
With everyone involved and so much having to be moved to accomodate the show, the days following it didnt see much in the way of restoration going on, because it all had to be re-positioned in its correct place again. To top it all the weather broke and the painting schedule we had planned for the early part of the week was once again put on hold until Thursday. Currently undergoing some TLC is the Saudi T55 Lightning, the paint and laquer previously applied to the airframe was inspected and declared fit for a few more seasons, but the under carraige and radar cone areas were in need of urgent attention. Now this is an area that Gordon excells in so he set to work with the help of myself and very soon both main U/C sets after a good clean and scrape were once again shining in their new paintwork. Gordon and a few other volunteers had a timely days instruction on a BAPC surface finishing course which was held on site on Tuesday. Very worthwhile and extremely informative was the consensus.
The Phantom is being painted when the weather allows with the port side of the fuselage nearly complete. Always a difficult time to get aircraft painted and with such blatent confliction from the forecasters the only reliable way to predict the weather is to look at the sky it seems.
Last weeks "Where Am I" was of course, given away by the fact that the three pictures above were all Lightnings. It was taken facing aft looking at the port under carraige door, rear latch hook mechanism. This weeks picture has no such links.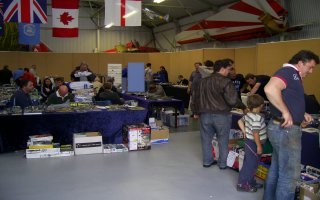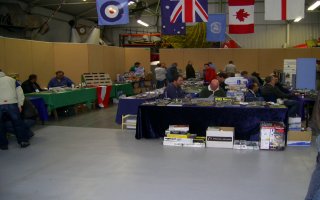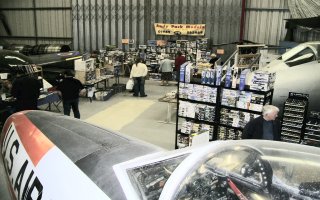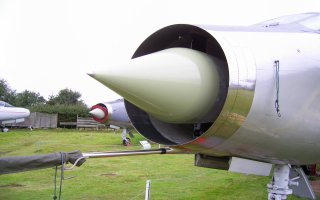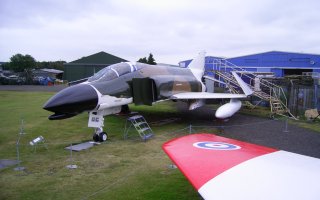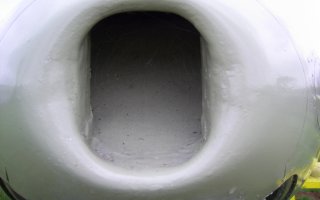 Where Am I