Latest News
News Update 15/09/07
Story added on 15th September 2007
Having got the Viscount settled down for her engineers to start the long process of restoration life for the rest of us carries on as normal. A few update photos to give you an idea of what we are currently working on, aircraft wise. One musnt forget though that the Shop, Cafe and Guiding activities still carry on despite what we are doing on the engineering front. These very important parts of any museum consume an awful lot of time and have to be manned regardless almost of what the aircraft restoration priorities are.
We changed the stbd main wheel on our Phantom this week, it was, as you would expect slightly reluctant to come off but Rob and a team of helpers managed in the end, replacing a very sad corroded wheel and split tyre with a spare we had in store. Nice to see the Mig Killer levelled off at last. Priming is finished and next week weather permitting should see the camo re-appear. The T33 white primer is gaining ground as you can see, a few more weeks should see her in full winter camo. The move of the Gnat went ahead this week and proved that close up you can see its body appears smaller than that of the Blue steel, it makes a good photo opportunity we think of the little and large variety. The very regular observant visitor (& there are many) might notice that our Lightning F6 has sprouted a couple of Firestreaks as well.
For a bit of fun the last photo is the start of a series I will take titled "Where Am I". It might sometimes even prove a challenge for the die hard enthusiast, answers if you want to via the guestbook (just a crafty way of getting the hits) no prizes. All photos will be taken of our stock aircraft. A relatively easy one to start with though.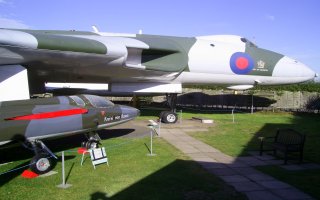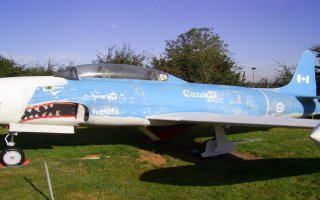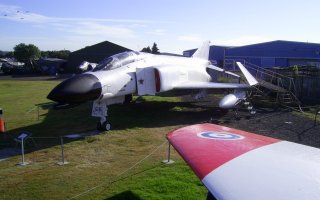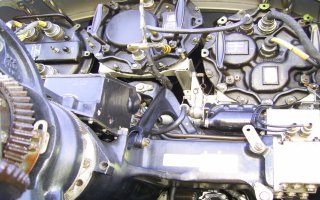 Where am I