Latest News
Last weeks News Round up
Story added on 2nd September 2007
The Guild of Aviation Artists Art Exhibition has been on all week providing an added attraction for our visitors and we also welcomed those who made quite long journeys just to look at the paintings. We now have a breather and a couple of weeks to prepare the Robin Hanger for the Model Show on the 23rd September.
We have been blessed with good weather all week and good progress by the Phantom team has been made on the aircrafts paint preparation. A large airframe when you come to prepare it and ours which had beeen used for battle damage repair practice needed a lot of work. Both flaps had chunks missing that had to be repaired by Lester our pet metal worker. Honeycombe constructed metal repairs are not easy but he has made an excellent job of it. Better some say than the battle damage repairs that surround it.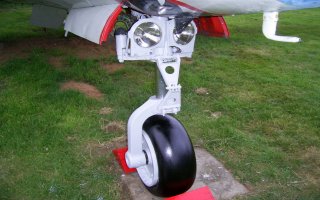 Progress on the T33 has slowed a bit due to museum guiding commitments of the gentlemen involved, but the undercarraige legs wheels and tyres are finished & even that makes it look a lot smarter. Already several areas of surface corrosion have been treated by the team, who are all fresh from thier latest BAPC corrosion course.
A routine inspection of the top of the T55 showed up a few patches of peeling laquer and paint on the wings, these were suitably treated and whilst in the area the spine panels were opened and all the internals (yes its all there) were cleaned and corrosion treated. Interesting marking inside one of the panels showed it to be the 25th aircraft. I presume of the Saudi contract.
Not having the correct seat for the Gnat proved a problem as during a clean and spruce up of the fuselage and cockpit it was decided that the canopy could easily be opened & the fuselage moved in to our interactive area. A crew seat was pressed in to use and secured to give the younger visitors a chance to sit inside and strap on a gnat fuselage. The move will put it closer to our Vulcan XL360 as a one time concept was of course to hang it underneath and air drop it. The Gnats replica wings are being constructed on site and will hopefully be ready for fitment next year. A view of the rarely seen Gnat radio and electrics bay located behind the cockpit with the battery tray (which is a wooden tray that is secured above the VHF radio) removed.