Latest News
Canberra re-visited
Story added on 5th August 2007
Every day we walk past our Canberra PR3 WF922 and it still sits there patiently waiting its turn for some attention again. So not being able to resist a short rest from painting everything in sight we knuckled down to do all the things that needed doing both above and under the bonnet. Couple more pics added of the port Engine.
A thorough corrosion check has been carried out and apart from a very minor re-occurance of Mag alloy corrosion in the stbd under carraige well that was treated, all was ok. The stbd side of the fin which had been re-fabriced 2 years ago needed a new coat of paint as it continually faces the sun from mid-day on. Then a complete "t" cut of the top fuselage brought back that shine once again that had been dulled over by the Midlands weather.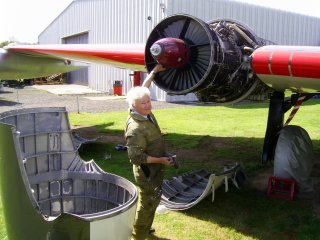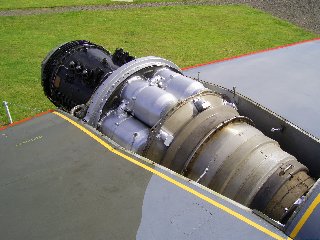 Then on to the engines which although they did recieve some attention during her previous restoration I remembered thinking as I put the cowlings on last time that I wished I had had time to clean them properly and give them a new coat of paint. That now became a reality, with the nose cone and all of the cowlings removed we had a field day cleaning and applying silver paint to all of the engine cowlings. Followed by a wash down of the Avon itself and re-grease of the engine controls left the areas sparkling. A pity really that we rarely get the opportunity to show off this handiwork but we (& now you) know its done.