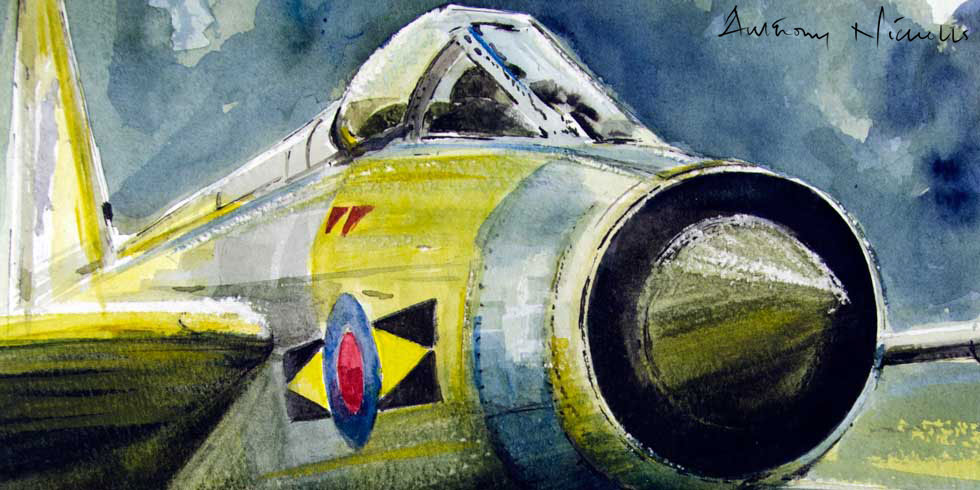 BAC Lightning
Powered by two Rolls-Royce Avon turbojets with reheat
Visit Us
Postcode for your sat nav: CV3 4FR.
Opening Times
Winter
(Nov-Mar)
Summer
(Apr-Oct)
Monday - Saturday
10:00 - 16:30
10:00 - 17:00
Sundays
& Bank holidays
10:00 - 16:30
10:00 - 18:00
We are closed Christmas Eve, Christmas Day and Boxing Day.
Click here for a location map and public transport details.
Admission charges
Adult
£7.00
Child (5+)
£3.50
Infant
FREE
OAP/Student
£6.50
Family (2+2)
£19.00
Picture of the Month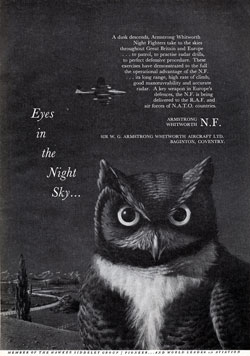 Amstrong-Siddeley were a locally based firm that built luxury cars and aero engines. This was an advert from December 1953 extolling the virtues of the Armstrong-Siddeley-built Meteor night fighter. 8 years after the first Meteors had entered service with the RAF, A-W and Glosters were still selling the aircraft to foreign air forces and the RAF. It was rapidly becoming outclassed by newer fighters, but as a night-time bomber-destroyer it was still a useful aircraft and around 550 Meteor night fighters were built. An example of the Meteor NF.14 is on display at the Museum.
Spring 2016 update.
Well its been some time since an update has been added so I thought it about time to attack the keyboeard.
The museum is undergoing some expansion and as such a lot of effort by volunteers has gone in to the very un-newsworthy task of demolition of some outbuildings to make way for the new planned extension. More on that subject when its up and running. An extension to the concreted area in front of the Robin hanger will be the first stage of the building work. All of this means that some aircraft projects have to be put on hold as the volunteer pool is relatively small(and not all young).
However as you may be aware as you are reading this that we aquired the Victor nose section from XH582 from Bruntingthorpe late last year. This was a K1A aircraft and was built circa 1959.... read more
Get Social
You can also keep up with the latest news at the Museum by Liking us on Facebook or Following us on Twitter!