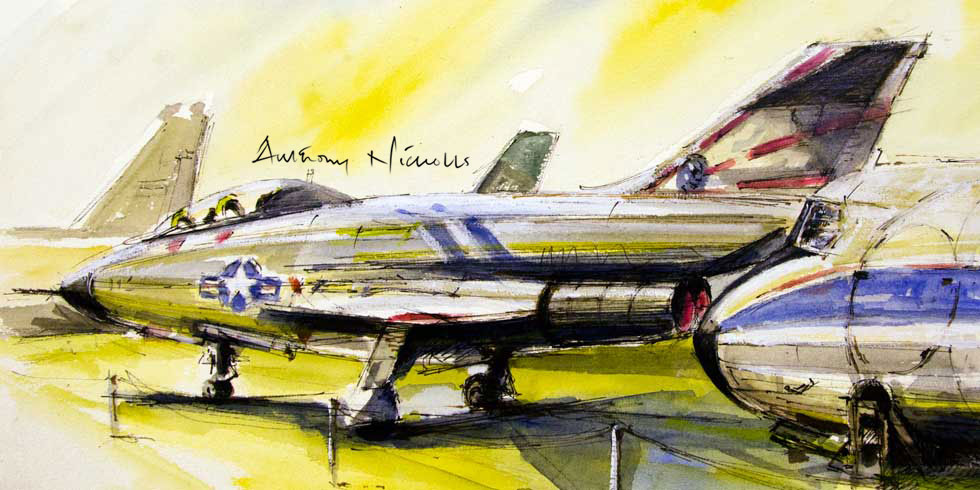 McDD F-101 Voodoo
Powered by two Pratt & Whitney J57 turbojets with reheat
Visit Us
Postcode for your sat nav: CV3 4FR.
Opening Times
Winter
(Nov-Mar)
Summer
(Apr-Oct)
Monday - Saturday
10:00 - 16:30
10:00 - 17:00
Sundays
& Bank holidays
10:00 - 16:30
10:00 - 18:00
We are closed Christmas Eve, Christmas Day and Boxing Day.
Click here for a location map and public transport details.
Admission charges
Adult
£7.00
Child (5+)
£3.50
Infant
FREE
OAP/Student
£6.50
Family (2+2)
£19.00
Upcoming Events
| Date | Event |
| --- | --- |
| Tue 15th August | 50th Anniversary of Midland Air Museum Exhibition |
Picture of the Month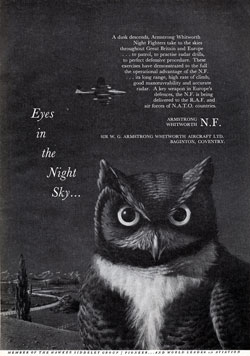 Amstrong-Siddeley were a locally based firm that built luxury cars and aero engines. This was an advert from December 1953 extolling the virtues of the Armstrong-Siddeley-built Meteor night fighter. 8 years after the first Meteors had entered service with the RAF, A-W and Glosters were still selling the aircraft to foreign air forces and the RAF. It was rapidly becoming outclassed by newer fighters, but as a night-time bomber-destroyer it was still a useful aircraft and around 550 Meteor night fighters were built. An example of the Meteor NF.14 is on display at the Museum.
What will you see and do on your visit.
A time for a slight change of tack from the usual enthusiasts keep up to date type of newsletter, this time it will focus on those who have never visited and really want to know what to expect on there visit and if its worth the effort to visit us.
So apologies for any bad grammer etc as I am much more used to the technical write up scenario.
Firstly you will arrive in a spacious car park where you really can park without hitting another car with your door when you get out and if you hate reversing in to small spaces then this is the place for you. Sounds a simple thing but it often depends on that sort of thing as to what supermarket or car park you go to sometimes.
On arrival you will enter a small corridor with ladies/gents and disabled toilets leading to the reception... read more
Get Social
You can also keep up with the latest news at the Museum by Liking us on Facebook or Following us on Twitter!