BAE Harrier
Powered by one Rolls-Royce Pegasus turbofan with vectored thrust
Visit Us
Postcode for your sat nav: CV3 4FR.
Opening Times
Winter
(Nov-Mar)
Summer
(Apr-Oct)
Monday - Saturday
10:00 - 16:30
10:00 - 17:00
Sundays
& Bank holidays
10:00 - 16:30
10:00 - 18:00
We are closed Christmas Eve, Christmas Day and Boxing Day.
Click here for a location map and public transport details.
Admission charges
Adult
£6.50
Child (5+)
£3.25
Infant
FREE
OAP/Student
£6.00
Family (2+2)
£17.50
Picture of the Month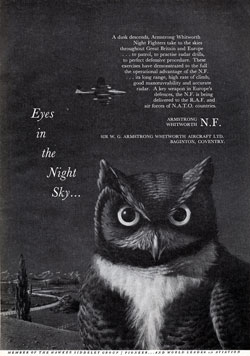 Amstrong-Siddeley were a locally based firm that built luxury cars and aero engines. This was an advert from December 1953 extolling the virtues of the Armstrong-Siddeley-built Meteor night fighter. 8 years after the first Meteors had entered service with the RAF, A-W and Glosters were still selling the aircraft to foreign air forces and the RAF. It was rapidly becoming outclassed by newer fighters, but as a night-time bomber-destroyer it was still a useful aircraft and around 550 Meteor night fighters were built. An example of the Meteor NF.14 is on display at the Museum.
Aug/Sept Update
The museum is still going strong despite several phone calls worried that we might be included in the sale of another aircraft organisation on the airfield. Just to re assure everyone we are going from strength to strength and are awaiting planning consent ( in its last stages) to enable the extension of some of our facilities.
Work wise we have made fairly steady progress on our scheduled summer projects. The T55 Saudi Lightning is complete, the Canberra has had a complete power wash and rub down ( sounds like a racehorse) and is looking shiny both inside and out. A lot of attention was made to re waterproof the navigators hatch windows which after a prolonged sit inside during the rain showed were the water drips noticed on the floor were coming from. Both ejection seats webbing... read more
Get Social
You can also keep up with the latest news at the Museum by Liking us on Facebook or Following us on Twitter!